Description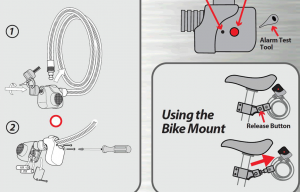 The Lock Alarm Maxi offers the perfect solution between strength and portability. The 12mm (1/2") thick cable is specially designed to help resist against cutting or sawing attempts, and yet it weighs less than half a kilogram (just over 1 lb) making it convenient to carry around.
The Lock Alarm Maxi is extremely simple to use. After passing the cable around the item(s) you wish to protect and also an immovable object such as a post or railing, lock the end of the cable into the lock unit. Your item(s) are secured and ALARMED! If an attempt is made to cut through the cable, or compromise the main lock unit, the alarm will start screaming!
Suitable for use in all weather conditions the Lock Alarm Maxi operates using 2 x AAA (1.5v) batteries which fit inside a tamper proof compartment.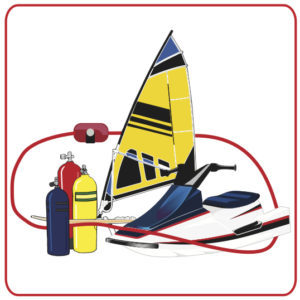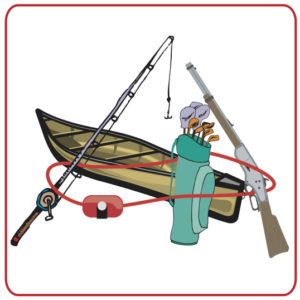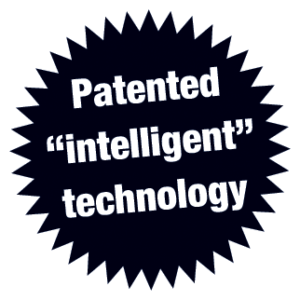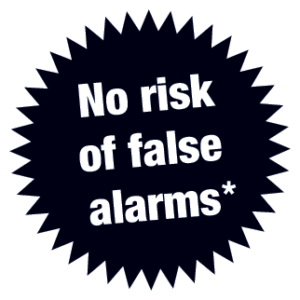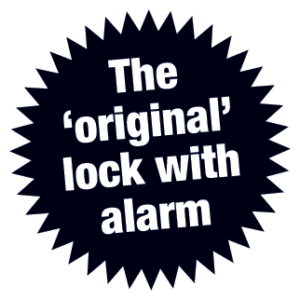 Delivery
Orders are dispatched from our facility located in Auckland, New Zealand. Delivery is by courier. We will endeavour to ship orders within 1 business days of receipt of order.
Payment
Payment is in New Zealand Dollars and can be made by credit card. If you prefer to use another means of payment, such as internet banking, we are very happy to help you do that. You can contact us by email or phone. Email
sales@lockalarm.co.nz
or Phone 0274339915 (Neville)
Frequently Asked Questions
How much does the cable need to be cut before the alarm will sound?
The unique patented design of the cable is such that when the cable/shackle is cut through by 50% or more the alarm will activate.
How long do the batteries last?
Battery life depends on several factors such as brand/quality of the batteries, frequency of product usage, environmental conditions etc. Assuming good quality alkaline batteries are used, typically under average usage and operating conditions they will last 6 – 12 months.
Can you test the alarm and/or check the batteries are functioning?
On each Lock Alarm there is the function to test the alarm. Please refer to the individual product instructions for more details. In addition, the Lock Alarms have a LED that flashes when the device is locked. If this LED stops flashing or becomes very faint then this indicates the batteries need changing.
If the batteries are discharged will it affect the locking mechanism on the product?
No. The batteries only power the alarm function and do not affect the locking mechanism, which is totally mechanical – so the device will still lock and unlock even if the batteries become discharged.
Can the batteries be removed to disable the alarm function?
No. The batteries are located in a tamper proof compartment, which when the device is being used cannot be accessed by anyone except the authorized user.
Are the products weatherproof?
Yes, all the Lock Alarms are suitable for use outdoors in all normal weather conditions. In very extreme weather conditions and/or extremely wet environments it is advisable to place the Lock Alarm device in a sheltered location or wrap a clear plastic bag around the main unit to protect it. This will help prolong battery life and give optimum reliability.
What are the operating temperatures?
With good quality alkaline batteries fitted a Lock Alarm will operate between -20 ̊C to 54 ̊C (-4 ̊F to 130 ̊F). For more extreme conditions Lithium batteries should be used which will extend the operating range to -40 ̊C to 60 ̊C (-40 ̊F to 140 ̊F).
How secure is a Lock Alarm?
No security device is totally infallible against a highly determined or professional thief. Opportunistic theft accounts for over 98% of all thefts in most countries around the world. A Lock Alarm will provide a significant deterrent factor against these opportunist thieves, as they usually choose easy and vulnerable targets, so any possessions secured by a Lock Alarm will often be ignored in favour of not so well secured items. Secondly, an opportunist thief will most likely run off at the first sound of any alarm. These are viewpoints consistently backed up by Police and security consultants around the world. There are 1000′s of reports from users of a Lock Alarm stating the device helped save their valuables from theft in some way.
Is there a key replacement service?
Yes, a replacement key service is available. For security reasons, replacement keys will only be issued to users who have previously registered their key code with the manufacturer via the main Lock Alarm website.
How do I find my key code?
Your key code is a 4 digit number that is either (1) engraved somewhere on the key, or (2) is printed on a metal tag attached to the key ring.
Is there a warranty provided with a Lock Alarm?
Yes, each Lock Alarm is warranted for 1 year against defects in material and workmanship. At our option we will either repair or replace the device.
What about "false alarms"?
The patented cable design and "intelligent" electronics ensure the alarm will only sound when an attempt is made to (1) cut the cable, (2) force open the lock, or (3) violently attack the lock.
If the alarm starts how long will it continue to sound for?
If the alarm is sounding because the cable has been cut or the device has been forced open then the alarm will continue to sound until either the user turns it off by unlocking the device OR the batteries drain low (usually this is within 30-60 minutes).
I thought most people ignore alarms?
It is a fact certain alarms such as those installed in cars and in buildings are sometimes ignored by members of the public, however continual feedback from users of a Lock Alarm prove the situation to be different. They are most commonly used in close vicinity to the owner and/or in busy locations where if an alarm sounds and someone is seen to be acting suspiciously then considerable attention is attracted. In addition, Police state that opportunist thieves (who account for approx. 98% of all thefts) will most likely run away empty handed at the first sound of an alarm. To back all this up there are 1000's of reported cases from users whereby in their opinion the alarm prevented the theft of their possessions.